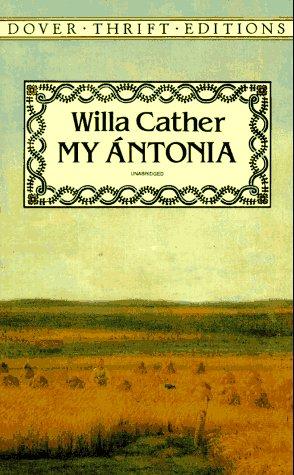 The journalist H. L. Mencken was no pushover when it came to literary criticism. If anything, he seemed to delight in savaging writers he didn't think worthy of their chosen profession. But when it came to Willa Cather, Mencken was a pussy cat. He adored her novel My Ántonia (1918) and said so without equivocation: "No romantic novel ever written in America, by man or woman, is one half so beautiful as MY ÁNTONIA." Since Cather is often treated as a second-rate novelist, not fit to have her name spoken aloud in the same sentence with, say, Henry James, it's a pleasure to see someone as tough to please as Mencken give her first-rate novel its due. But it's odd to see My Ántonia described as a "romantic novel," because there is no shred of romance in it. My Ántonia is the story of Ántonia Shimerda, a young Czechoslovakian girl, who, along with her family, struggles to make farmland out of Nebraska's hard, unforgiving soil.

What Mencken may have meant is that Cather, despite her focus on the harsh struggles facing the Shimerdas, gives Ántonia's story mythic overtones. My Ántonia tells the story of a struggle between a woman and the land, and in the end, the woman wins. When the story opens, Jim Burden, the narrator, is newly arrived in Nebraska at the age of ten (just about the same age Cather arrived in the state). Jim is awed, maybe even scared, by the seemingly endless, wide-open landscape he encounters: "Between the earth and the sky, I felt erased, blotted out." Ántonia, however, feels nothing of the sort. In contrast to Jim's anxious and well-behaved self, she is portrayed as a veritable force of nature, an extension of the land rather than an inhabitant. It's no coincidence, then, that at the novel's end, Jim, ever the watchful narrator, memorializes her as a goddes of fertility:
"She had only to stand in the orchard, to put her hand on a little crab tree and look up at the apples, to make you feel the goodness of planting and tending and harvesting at last. All the strong things of her heart came out in her body, that had been so tireless in serving generous emotions. It was no wonder that her sons stood tall and straight. She was a rich mine of life, like the founders of early races."